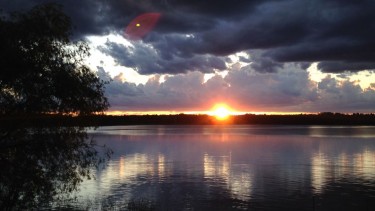 We are three days into this year's summer vacation. This morning one of my grandchildren asked, "Why can't we stay here forever?"  Her question got me thinking… what are the ingredients that make for a "Why can't we stay here forever" vacation?
The following list is not exhaustive nor have we perfected the recipe, but we have sure had a lot of fun cooking up an experience.
 Add a Splash of Spontaneity
One of the things that can destroy a vacation before it begins is over-planning, leaving no room to for exciting opportunities that will surprise you almost every day. Be flexible. We were sitting on the dock yesterday when someone said the word, "Ice Cream."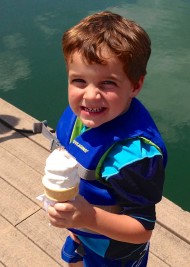 There was a moment's pause, then a stampede for the pontoon boat, followed by a fifteen minute boat ride with six drooling children and six slobbering adults.
I scream, you scream, we all scream for ice cream!
Season with Adventure

Adventure doesn't have to be expensive or dangerous, it just has to feel that way. This year we found a bridge about 15 feet above the water. The danger level of jumping? Almost zero. The thrill of working up the courage to jump? Priceless!
Avoid Toxic Amounts of Screen Time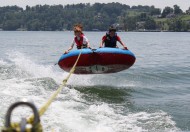 If the majority of a vacation is spent playing video games, working on the computer, answering emails etc, it ceases to be a vacation.
This is the time to connect, play lame board games, and remember favorite moments in past vacations. Set a short time each day to take care of cyber business then live screen-free the rest of the time.
Lexi, age 13, dropped her cell phone in the lake on day one. The world came to an end for one day, then Lexi rediscovered that a screen-less world can still be a wonderful world.
 Stir in Huge Helpings of Laughter
I'm supposed to be the comedian, but Uncle Scott is the real prince of laughter in our family.
If tension begins to build, Uncle Scott acts out the confrontation with hilarious exaggeration and a ruthless discernment that soon has everyone too helpless with laughter to do anything but get along.
His attitude is contagious and soon brings a sweet flavor to the entire vacation. He is a very strange uncle!
Even Doses of Responsibility
Every vacation comes with a work load. There will be dishes to be washed, meals to be cooked, cleaning to be done. Decide ahead of time to share the load and spread the responsibility to young and old alike.
All of the above is best cooked in a peaceful location far from the hectic chaos of everyday life. We rent a simple home on the shores of a beautiful lake. Occasionally we choose a beach location or a peaceful place in the mountains. All of them have these things in common; tranquility, privacy, beautiful scenery and 12 people who love each other.
What are the ingredients that make your vacations successful?
What ingredients should be left at home?[reminder]