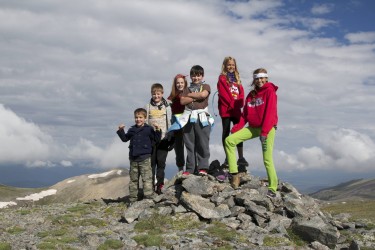 We started climbing "Jones Mountain" just after the sun arrived to warm the chilly Colorado air.  It was not a technical dangerous climb, but it was one that many adults would find difficult to complete.
The air was thin and legs were wobbly, but several factors allowed six children ages 5 to 13 and three ancient fossils to reach the 13,000 ft summit.  Those same factors can help you reach any goal you set. Enjoy the pictures.
1. It was a worthy goal.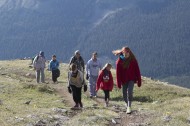 Every child in the group knew that the view from the top would be spectacular.  When spirits began to wane, the thought of standing at the summit and seeing a hundred miles kept little feet moving upward.
2. Someone had previously paved the way.
Five year old Tyler had climbed this peak only a few days before (see last weeks post.)  Tyler kept telling the older children that it could be done, and that the view from the top made it worth it.
3. We took time to rest.  
Every 10 minutes my 8 year old grandson, Bailey, who beat everyone to the top, would announce, "I'm tired now."  He would then crumple to the ground where he would lay motionless for 60 seconds. Just when it looked like we might overtake, him he would spring to his feet and continue to scramble up the mountain.
4. No one climbed alone
We did this together. Some were quicker than others, but no one had to walk alone.  Even Bailey the mountain goat, would wait for someone to get close before continuing. What good is it to reach a goal first if no one sees you?  When an old ankle injury began to plague Bailey on the way down, his father Scott, carried him on his back.
5. We had fun along the way. 
What a travesty to stand on the summit without enjoying the journey. There were many stops simply to have fun; scenery to be photographed, a snow field begging tiny bottoms to slide, or a wild flower waiting to be admired.
6. We celebrated together.
All of us shared in the joy of making it to the summit together; two grandparents, a great dad and six exuberant children who will long remember the day.  Hopefully they will also remember the lessons they learned that day.
Have you found these factors helpful as you climb toward your goals?
What "Summit" have you stood on and what enabled you to get there?
[reminder]
I hope these are factors that will enable you to enjoy the most important journey of all, life lived fully alive.