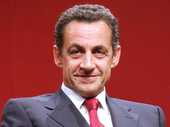 On November 7th America received a French Kiss like they have not experienced in a long long time. I might be optimistic and naive, but I say pucker up and enjoy it for as long as it lasts. Amidst the din of so many clueless people booing and hissing and thumbing their noses at the U.S, the president of France, Nicholas Sarkozy, in the speech he delivered to the U.S. Congress, demonstrated that he has a brain and a memory to go with it. He detailed in his speech the role this country has played in bringing hope to so many throughout the world.
This gift comes just in time for thanksgiving and may even be savored until Christmas. You deserve to hear good news for a change. This veterans day at least one Frenchman did not forget the sacrifice my dad and so many of our fathers and brothers and sisters made for freedom.
We are not a perfect nation, Nicholas Sarkozy is not a perfect person, but I beg you to experience this kiss. I will even let you keep your eyes open.