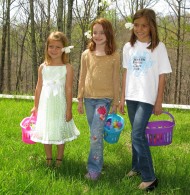 Today I began scouting out hiding places for the annual Easter egg hunt we hold at our home. I plan this carefully. My objective is to find hiding places that have never been used before. Evidently, my memory is becoming severely degraded. I put a little red flag in each new place I think will make a unique hiding place for this year. I poked a flag in four rotten eggs left from last year.
How could I forget a place where I stuck a flag and hid an egg only a year ago? Here is the worst part. I put out 30 flags, then I go to get the eggs. In the span of time it takes to go inside the house, get the eggs and begin placing them, I usually forget where at least five of the flags are. Just a few more years and I will be able to hide my own Easter eggs. Every egg will be a surprise!
When the starting gun goes off at the beginning of the hunt, (yes, we do have a shotgun start) the children immediately dash for the places they found eggs hidden the previous year. They have memories like elephants.

I can't remember the location of Easter eggs or flags, but I've got the most important aspect of Easter forever imprinted in my brain and heart.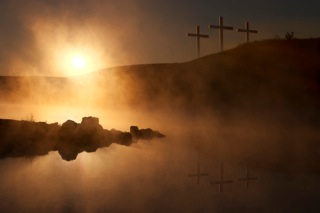 An empty tomb and a risen Christ are the centerpieces of Easter and the foundation of our faith. I love the laughter and joy that bubbles from my grandchildren when they discover eggs hidden in places where I thought they could never be found. I love it when they shout, "I found an egg! What is this flag for?" I love it even more when a man or woman experiences the "joy of His resurrection" and they pass from death into life.
Lasting joy can't be found in a safety deposit box, an opulent lifestyle, or even in a respectable religious ritual. It is found in the hope of Easter.
As Jesus' grief stricken friends came to prepare his body and say good bye forever, they were surprised by an angel sitting near an empty tomb. "Why do you seek the living among the dead?" he asked. "The one you seek is not here." Then he said the words that would reverberate through history. Words that have transformed my life. Words that define Easter. "HE IS RISEN!" That's the best news bite ever spoken. That is the hope of Easter.
After church, after my grandchildren find the last egg and after they have eaten enough marshmallow peeps to kill a monitor lizard, I will sit them down and tell them the story of Easter one more time. Outside there will be unfound eggs already beginning to decay and forgotten little flags fluttering in testimony to my feeble brain. But inside we will be basking in the hope of forgiveness and newness of life. Hope that is rooted in the GOOD NEWS that He IS risen.
Are you experiencing life to its fullest? Would you like to squeeze out every drop of adventure that God intended for you to get out of life? My DVD "Good News" highlights three principles that will enable you to get all the gusto out of life. This life changing DVD teaches you to live with…..
nothing to prove,
nothing to hide,
nothing to lose.
I have received more e-mails and letters testifying to the power of this message than any other I have produced. Please let me know if it touches your life.