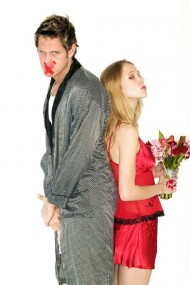 A man and his wife were feuding at home and were giving each other the silent treatment. After a week of no communication, the man realized that he would need his wife to wake him at 5:00 AM for an early morning business flight to Chicago.
Not wanting to be the first to break the silence (AND LOSE), he wrote on a piece of paper, "Please wake me at 5:00 AM.

The next morning the man woke up, only to discover it was 9:00 AM and that he had missed his flight. He was furious as he threw off the covers to see why his wife hadn't woke him up. Then he noticed a piece of paper by the bed. The paper said, "It is 5:00 AM. Wake up."
(MEN JUST AREN'T EQUIPPED FOR THESE SORT OF CONTESTS)
Seriously, no human benefits from these silly games.
Communication is vital to any relationship.
In my book "How to Live with Your Kids When You've Already Lost Your Mind," I titled one of the chapters. "No news is bad news." Meaning, even communication that reveals what you don't want to hear is better than no communication at all.
When communication stops, that's when bad things happen. How silly to stop talking to someone you love in a vain attempt to win a point. Even if you win, you lose.
Silence kills relationships.
Communication is road to conflict resolution.
It can be painful. It requires humility. It is difficult. It is worth it.
Are you giving someone the silent treatment hoping to demonstrate some victory of willpower? I speak with authority because I am an expert at this game. Playing the game requires a big dose of pride and in my case there is a fairly good helping of stupidity mixed in.
If you love someone, Lighten Up! Open the lines of communication. Let the healing begin.
Do you agree or disagree?
How do you open lines of communication when you are angry or disappointed?
Your story helps us be better parents, spouses, and friends.