9:30pm Two months before the triathlon:
Ken: Why don't you do the Cedars of Lebanon triathlon with me?
Diane: I'm afraid I couldn't finish. I am not a good swimmer. I don't run very fast. I'm 66 years old. I'll stand out among all those young chicks. I'll drown. I can't.
Ken: Sign up! You'll love it!
Diane: I'll drown!

10:00am Six weeks before the triathlon, after swim practice at Williamson County Recreation Center.
Diane: (Hanging on to the edge of the pool trying to catch her breath) See! After 25 meters I can't even breathe! We have to swim 200 meters in the triathlon. I will die! You will inherit everything. I can't let that happen. I will go and watch you get another medal, but I am not going to compete.
Ken: Just try!
Diane: You try! I'll watch.
Ken: Will you keep training?
Diane: I'll try!
Ken: (Smiles as he watches his beloved swim another 25 meters.)
7:00 P.M. The night before the Triathlon, Cedars of Lebanon State park. 50 meter pool, Lebanon, Tennessee.
Diane: Look at the size of that pool! That thing crosses two time zones. I can't possibly swim fifty meters without stopping, let alone make it four laps. What if someone touches me? What if I run out of breath? What if someone has released a shark in the pool? I can't do it.
Ken: Will you try?
Diane: (Stares at the pool in silence)
6:00am Day of the Triathlon  Hampton Inn,  Lebanon, TN
Diane: (Rises early muttering some nonsense about drowning and Ken finding one of the younger competitors to replace her after she drowns)
(Puts on swim gear)
(Heads to the race)
(Points out several possible candidates to replace her)
(Lines up with the other racers)
8:00am
Diane: ( TRIES!!! )
Ken: (Smiles real big)
10:30am Awards Ceremony
Diane: Stands on the podium smiling and waving as she receives the award for third place in her age division.
Ken: Whistles and cheers and is filled with pride. He married a woman who is willing to try. As a result, throughout her life, she has experienced moments of joy that only come to those who try.
On this day that joy was not only on the faces of those who won medals, it was on the face of every person who crossed the finish line. The next day I saw the same look on the faces of my granddaughters, Kialee and Lexi, as they finished the Nashville Kids triathlon.
It seems the only unhappy people over the course of these two days were the women who Diane had designated to replace her if she didn't make it out of the pool. Their big chance was gone. But I gave them an encouraging pep talk. I told them there were still many good men out there in the world.
As for me I was going to stick with Diane, a woman who TRIES!
Is there something you need to try?
Have you experienced the joy of trying?
It is better to have tried and failed than to have never tried at all!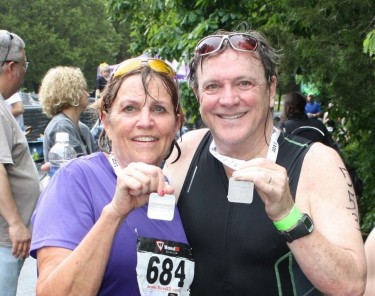 If this post inspired you, Check this out!
I have been seriously thinking of creating a community of men and women who will train for one of these events next year. Age is not a factor. A year will give you plenty of time to get ready. If your doctor says you can do it, (a necessary consideration) you can start training now. I will coach and encourage.
I am going to call it the "I Tri" group. I'm thinking we will do tee shirts and the whole bit. If your going to make a scene, be seen! right? It's still in the beginning stages but If you are interested, Simply write "I'll try"in your comments.
In my book, Fully Alive I talk about how one of these races was pivotal in changing my life.
Let's do this!