Yesterday I got the following e-mail from my son in law Scott Fowler who leads the Southern Gospel group Legacy five. His son and my grandson, four year old Preston, is an intelligent, strong willed and wonderful boy. His brother Bailey is two years old and often at his brothers mercy. But God is at work in their minds and hearts. Here is the e-mail from Scott.
Last night, I put Preston and Bailey to bed. I told them both the story of "Mollywhoppy" and then prayed for them. I asked God to let them both grow up to love Him and to serve Him, as I do every night.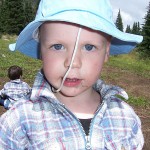 Today, I am in my office today paying L5 bills. I have several photos in frames on a shelf by my desk, one of
which is a photo of my grandpa Hamm. Preston asked me who it was and I told him it was my grandpa. I said "he lives in Heaven now." Preston said, "yeah….because he died." I then told Preston that if you are a Christian you go to heaven when you die. He then asked, "Am I a Christian?" I said, "If you believe in God and have asked him to forgive you of your sins, then yes….you are a Christian". He then said, "I believe in God." So I asked him if he had ever asked Jesus to forgive him of his sins and he immediately bowed his head, closed his eyes and said, "Dear Jesus, please forgive me……what's the rest daddy?" "Of my sins," I told him. "Of my sins…Awe Man!"
Then, Preston asked if I was a Christian and if mommy and Bailey were Christians. I told him that mommy and daddy were but that Bailey was so young that he probably had never asked Jesus to forgive him of his sins. Preston immediately went to Bailey and tried to force the gospel on him. Bailey refused to cooperate with his demanding brother. Preston might have to lose the "hell, fire and Brimstone" approach if he wants to win Bailey over. J
I will leave it up to God, the One who so miraculously created our precious boys to decide the heart of Preston and legitimacy of the prayer he prayed. (I hope it was for real…..he needs to lose some of his "old nature" J)! In the mean time, I am committed to continue living, teaching and embracing the life changing power of the gospel unto salvation in hopes that the little lives God has loaned us for a while will indeed grow up to love and serve Him.
Please commit to pray for the salvation of all the precious "little ones" in our family.
Scott