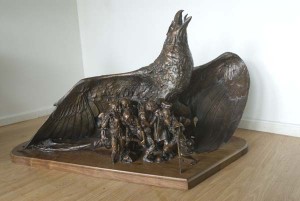 Our Eagle protecting our Soldiers. One soldier from each of the five major wars we participated in during the 20th century. Currently in wax 2 feet high, 3.75 feet wide, 1.5 feet deep Proposed Bronze Monument 15 feet high, 27 feet wide, 12 feet deep. Currently seeking additional funding to complete this outstanding tribute.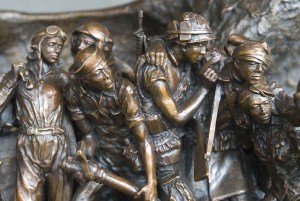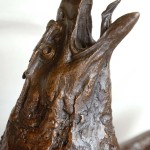 Recently I did a benefit concert in Virginia MN to help fund the placing of this bronze as a memorial to veterans from all branches of the service. Internationally respected artist, Gareth Andrews has made this the center piece of his effort for the last 15 years. Check out some of the other art on Gareth's website including his spectacular paintings. His attention to detail and scrupulous research for every project is amazing.
He was my college roommate.
I taught him everything he knows.
I thank you Gareth for helping us remember the cost of freedom. For additional information or to make a contribution, make contact here.