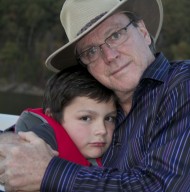 I celebrated my 67th birthday last week and it was one of the best weeks of my life.  I got more good wishes and caring messages than all the previous 66 years of my life put together. Those messages had a profound affect on my soul.

Thank you so much for lifting my spirits and reminding me of what is really important on this earth. I just finished reading "Johnny Carson" a book about the most famous talk show host in history. I once dreamed of being on his show. How sad to discover that he died alone.  Not a single friend or family member was there to comfort him. The book reveals a man who was never able to keep close friends or develop deep family relationships. In many ways it is a heartbreaking book.
How grateful I am for my family and the wonderful team of friends and associates that surrounds me. I am so blessed with a wife who loves me for who I am rather than only for my extremely good looks. As I viewed the following video, I wept like a baby. Bet that makes you want to watch it, huh?
Enjoy this video made by people I love. Their love and the love of my family makes me the "Wealthiest Man in the World"
[youtube id="j2Uyjizsn-M"] [reminder]Do you remember a favorite birthday or birthday gift?[/reminder]
______________________________________
Thank you to these dear friends in the order of their appearance.
Scrooge, AKA, Matt Baughur. My actor friend and editor,
Tyler my buddy, and "Drama Queen" Lexi,  two of  six favorite grandchildren.
Suzanne, my friend who will never forgive me for forgetting her name once.  Okay, if forgot it SIX times.
Jadyn and Kialee, two other exceptional grandchildren.
Caroline! Valuable member of our team and daughter of…..  mmmm… What's er name….  Oh yes, Suzanne!
Daughter, Traci Scheer, and her husband, my manager, Brian Scheer.
Stu MacLaren, friend with the biggest heart in the world.
Michael Hyatt, dear friend and valued business partner.
Joy Groblebe Manager and friend since she was a teenager.
Jackie, my friend from graphic design.
Chris Elrod, sweet friend who selfishly hoards Chocolate Liqueur.
Troy and Michele Cushatt, trusted friends and members of our team.
Patsy and Les Clairmont, two indispensable friend who both had me with hello.
Cliff Ravenscraft, my teddy bear podcast buddy.
Lauren Brady, friend and invaluable team member.
Lysa TerKeurst, one of the smartest and most discerning friend I know.
Emily Arts, The director and creator of this Birthday video and my cherished new friend.
Scott Fowler, weird son-in-law, who makes me laugh harder than anyone I know.
Tyler Scheer…. I love you little man.