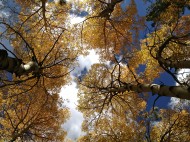 Coming down a mountain pass last night, I felt the brakes on my truck begin to chatter. When I got home, I called a trusted repair man. He told me that he could not work on my beloved Ford F150 until after the weekend. When He told me why, I was amazed!

He was taking his 91 year old father and 87 year old mother on a "COLOR RUN." A rumbling several hour jeep trip over old rugged mountain passes to see the beauty of the aspens changing color.
Let's do the math here.
91yrs + 87yrs + several hours of bone jarring jeep trails = some amazing people who are still having fun and living fully alive into their 90s. What ever happened to, "It's too high, It's to cold, there's a football game on."
I have never met these people, but there are at least four principles that have kept them living fully alive.
They never retired.

They may have stopped working to make a living, but they never stopped living.

They still have a spirit of adventure!

The adventure is at high altitude, it will take several hours, and I complain about a two hour plane ride?

They move!

People who live healthy well into their 90s have several things in common. One of them is a lifestyle that keeps them moving.

A body in motion tends to stay in motion. A body at rest tends to rest in peace! An armchair and a television are a death sentence.

They live in a close community filled with love.

Community is another common factor to healthy longevity. Family, common interest groups, and church are all sources of strong community.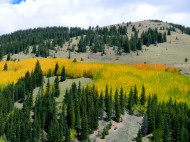 Grandpa, Grandma, children, grandchildren all headed out to experience this adventure together.  Golden aspens lining the route will cheer them on from the hillside. Laughter and shouts of amazement will fill the mountain passes. Potty stops, photo opportunities, and snacks all part of the adventure.
I want to meet these people. They are not old, they are "experienced." They are truly alive!!!  They inspire me. Diane and I have decided to go on a "Color Run" today!