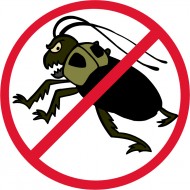 I was on a flight from Harrisburg to Cincinnati. After a short delay, the flight attendant announced we were going to be a few minutes late because of paperwork.
Ten minutes later I looked out the window to see people cleaning bugs off of the wings with paper towels. Could this be what they meant by paperwork?
After another five minutes, the pilot announced that the plane had flown through a cloud of bugs the night before and now that the bugs were gone, we would have to wait while the ground crew filled out paperwork on the bugs.
Bug paperwork?
We left thirty minutes late. I have some questions.
How long can it possibly take to do bug wipe paperwork? It took this airline five minutes to wipe the bugs and twenty to do the paperwork.
Did they have to count the bugs?
Did they have to identify each species?
Did they have to check for endangered species?
Why is it that in Airline Time a few minutes really means anything from thirty minutes to complete cancellation of a flight?
Finally, if the airline knew they had flown through the bugs the night before why did they wait until just before takeoff to wipe them off?
Bugs are a major problem in the airlines. Not the bugs on the wings, the bugs in the system! I immediately began to wonder, are there bugs in my system? Perhaps I should follow the same protocol I expect of the airlines.
Be Willing to Look for Bugs
You can't find bugs with your head buried in the sand and you often can't see the ones that are on you! Drop the tendency to live in denial and purposefully look for bugs that need to be exterminated.
Name them!
Ask your family!
Ask your friends!
Ask your clients to identify the bugs they have found!
Be Willing to Get Rid of Them
Do whatever work it takes.
Take whatever time is needed.
Pay the price…. it will be worth it!
Hire a Professional
Find someone who has had experience helping people exterminate bugs from their life. A therapist, a pastor, a group of friends.
Get your system clean and work on keeping it clean!
I have had some nasty bugs in my life. Some of them were personal and some were corporate. I have found great delight in going through the protocol of exterminating them from my life. It is an ongoing process that leads to a sense of freedom and health.
Did this post bug you? What do you think?