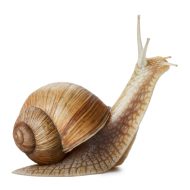 A couple was having a party at their house. An hour before the party, the woman found out that she still needed escargot—an entrée made from snails. So, she sent her husband to get it.
On the way, he passed the golf course and decided to rent some clubs and hit some balls on the driving range. An hour and a half later, he looked at his watch and realized that the party had already started. He quickly ran to the market, bought a bucket of snails and drove home.
He tried to sneak into the kitchen without his wife seeing him, but he stumbled and spilled the snails all over the floor. Hearing the noise, his wife stormed into the room. Without hesitation he looked down and shouted, "Come on guys, we're almost there!"
The problem of being distracted from the main task is common to all of us. It is especially acute with people my age. It's not a big deal if you are cleaning your desk and end up reading a book, but it's crucial if you are distracted from your purpose for living. Living with no regrets means staying focused on your goal.
Set your goal high and stay on track.
Paul says, "I press on toward the goal to win the prize for which God has called me heavenward in Christ Jesus" (Philippians 3:14)
Is there a time in life when you've been distracted? [reminder]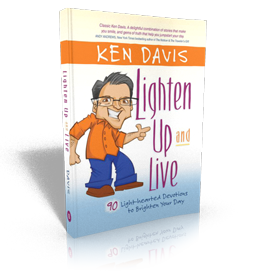 This post is adapted from Ken's Devotional book Lighten up and Live! 90 Light-hearted Devotions to Brighten Your Day. A perfect way to start your morning. Get it here.