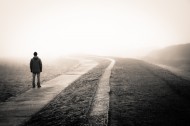 Today I realized I am headed for failure.
Over the past few years I have lost 47 lbs, I am in better shape than most men my age, and I feel better than I have in years.  The process has been at times painful, discouraging and at times exhilarating. Unlike most other parts of  my life,  Last year I had six guys who shared the journey toward health with me.  This year I am doing it alone.  I can't do this alone. If I expect to maintain this lifestyle and continue to enjoy it's benefits I must find friends and like-minded people who will join me in the quest, people who will help hold my feet to the fire, friends who will spur me on when I feel discouraged and celebrate my achievements with me.
Even if I could succeed by myself, I have no desire to stand on the pinnacle of a mountain alone. I don't think I can reach the pinnacle alone.
One is a lonely number.
I am not going to do this alone anymore. Jesus had twelve guys on his team.  I'm not Jesus.  I'll settle for two!  My search starts today.  I will let you know how it plays out.
This principle is true whether one is fighting addiction, seeking excellence in business, or striving to live "fully alive."
What is your quest?
What number are you?
Have you benefited from having someone share your journey?