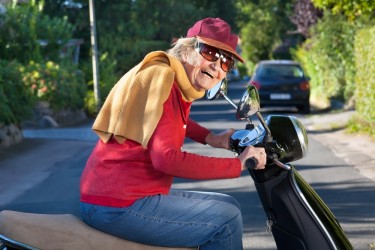 "Life should not be a journey to the grave with the intention of arriving safely in a pretty and well preserved body, but rather to skid in broadside in a cloud of smoke, thoroughly used up, totally worn out, and loudly proclaiming, 'Wow! What a Ride!'"  – Hunter S. Thompson
In 1981 the beautiful film "On Golden Pond" was made starring Henry Fonda and Katherine Hepburn. The movie followed this older, deeply in love couple as they spent what could have been one of their final summers on Golden Pond.
I enjoyed the movie, but I wished there had been more zest for life in it. All the hugging, kissing and sweet conversation was great but I wanted to see more…  Like a water fight.
I wanted to see Henry throw Katherine off the end of the dock. Maybe a canoe race or a rock skipping contest, something that showed that these people still had a fire in their soul.
I know! I know! "Their love sustained them." I value that. But oh how I wish the last scene had been filmed right after the pond froze over.
I can see the sunset casting its red glow onto the ice. I imagine the two of them clumsily skating as fast as they could, holding hands, barely keeping their balance as the sound of their laughter echoed across the ice.
At the end I wanted to see them fall and slide spinning across the ice with squeals of delight then… fade to black.
As you skate onto Golden Pond don't do it timidly. Skate well!
Laugh whenever you can
Throw someone off the dock
Find a cause bigger than you
Pray for the impossible
Dust off that Schwinn bicycle and ride again
Get to know someone with a piercing
Get a piercing
Spread the good new of God's love with boldness
Don't show anyone your scars (only old people do that)
Nap, but not while you are driving
Stay curious
Take a college course
Live
My dear friend Les Clairmont has just had his lower leg amputated. As he recovers in rehab, his laughter can be heard in the halls. We visit to encourage him and leave being the ones who are encouraged. He skates better with one leg at seventy than some young folks with all their limbs.
For you fortunate younger people who don't even think about Golden Pond, listen! Finishing well is not a topic just for old people. Skating well on Golden Pond starts now.
The decisions you make today will determine whether someday you just fade into the sunset or slide in head first shouting, "What a ride."
Years ago a friend gave me a coin. The coin is imprinted with these words: "Be encouraged. Finish well." That's my challenge to myself and to you for this day.
Are you ever tempted like me to coast to the finish line? 
Can you identify what holds you back from living fully alive? [reminder]
Remember it's not a race it's a journey!
Let's skate!
 —————————————————————–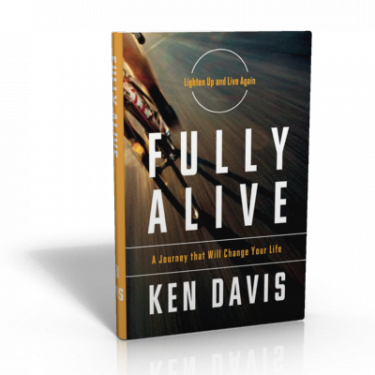 The message in my book Fully Alive has saved lives and rekindled life in others. Get your copy here. This post was based on a chapter from that book.