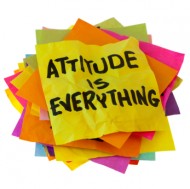 Live with expectancy instead of expectation that's the challenge I give in almost every presentation I make.  Smile and the world smiles with you!   Happy face, Happy place.  I write about it!  I challenge other people to live it!    But in a split second I can slip into the same old patterns I so badly want to shed.  
I was waiting to board my plane and once again the flight was late.  I decided to keep a positive attitude about the whole thing.  I purposely engaged the people around me in conversation. I  tried hard to not allow circumstances to taint my attitude negatively affect the experience of people around me. I even thanked the security personnel for the pat down. That….. is a miracle!   I was very proud of myself.  If I could have reached it, I would have given myself a congratulatory pat on the back.  I was doing pretty good.
Finally they announced that the flight would be on it's way.   People who needed a little extra time to get down the jetway boarded before us.   The last in this group was a pretty young woman in a wheel chair with an effervescent personality.  When the agent asked if she could make it down the jetway on her own she answered with an emphatic yes,  did a  wheelie with her chair and disappeared into the jet-way.   I boarded a few minutes later.  I had carefully chosen my seat on this very cramped small plane.  Bulk head seat on the aisle. This was where I would have the most leg room and could get a lot of work done.
But alas! Someone was in my seat.  My brow furrowed.  So much for happy face happy place.  Before I could speak a fight attendant addressed me.  "Would you kindly take the window seat she asked.  But this is my seat, I thought, digging for the piece of paper that would prove it.  The flight attendant lowered her voice, " this young lady prefers an aisle seat," she said, gesturing toward the person in my seat.  Since when, I wondered are people allowed to sit where they prefer to sit rather than where they were assigned to sit.  I said nothing but I'm sure that my face communicated the inconvenience and displeasure I felt.
As I huffed my way past the passenger sitting in my isle seat I saw for the first time that she was the spirited young lady who had done the wheelie on the way to the airplane.  Surely she had seen my ugly face,  but she smiled and apologized.  I assured her it was I who needed to apologize.  During this flight we had a wonderful conversation.  We talked about attitude and how if affects our life.
I found out her name was Joannah and at seventeen she had been in an accident that injured her spinal cord. She has been  paralyzed from the waste down ever since.  With a smile that lit up the cabin she told me she was on her way  to Japan alone to do research for her dissertation on Ancient Japanese art and literature.
She asked what I did for a living.  I sheepishly admitted that I spread good news and laughter around the world but today I was waiting for my face to get the memo.  We laughed and chatted the entire flight.  As I drove home, I thanked God for health and for the opportunity to meet this vivacious and courageous women.  I prayed that God would continue to help me live with the kind of grateful attitude and a daily sense of adventure Joannah demonstrated that day.  Meeting her reminded me…..
Live joyfully even in difficult circumstances.
Let your light (and face) shine before men, that they may see your good deeds and praise your Father in heaven.
When someone asks if you can handle it, do a wheelie.
That's what I want.  A wheelie attitude.
Thanks Joannah!
Am I the only one that can loose my grip on a good attitude in a heartbeat?   Who have you met that inspired you with a "Wheelie Attitude"