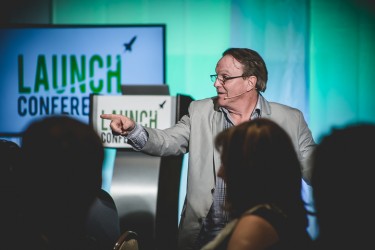 Almost weekly, I receive messages from men and women who dream of doing what I have done for over 45 years. They want to make a living doing what they love to do, speaking, writing or providing a service that changes lives. They are talented people stuck in jobs they don't enjoy.
There is one major question each of these people ask. How do I get started? Because the BIG answer to those questions couldn't fit in an e-mail or blog post we developed the Launch Conference.
But I can at least give you the first steps toward seeing your dream become a reality. 
1) Don't burn any bridges.
You can begin to design your product and build your dream while you do another job. This is true of speaking, writing and even developing a service. Realize that nothing good happens over night.
Building a career takes TIME! Too many people burn all their bridges and jump in with both feet before they are ready.  If they don't break a leg, they end up broke and working at some other job they hate. Use the job you have as a safety net, even a springboard to help you launch your new career. In your spare time develop a talk that expresses your passion and intersects with people's need, then take step number two.
2) Use your talent every time you get a chance, everywhere you get a chance.
That is how you build your base. That's how musicians build a fan base. So many people think they can just start charging for their services and the calendar will fill up.
Only demand will command a fee. If you are a gifted presenter, performing at every opportunity will build demand. If you're going to make a scene…. be seen.
3) Get clips of what you do on social media.
Youtube, Facebook, Vimeo, and a web page are the modern equivalent of business cards and brochures of yesteryear.
One of my friends and one of the most successful Christian comedians today, built a following by making high quality clips of his work available on Youtube. I can't give you his name but his initials are T I M  H A W K I N S.
If you want to be out there, get your image out there!
4) Take names.
Start to build an e-mail list right now. Over the years I developed a mailing list of over 50,000 people. Do the math on what it used to cost to mail to all those people. When I changed from snail mail to e-mail, I lost two thirds of those people but doubled the requests for my services.
People who have never seen my show buy DVDs and books and materials that impact their lives. Get those e-mail addresses and regularly keep people informed on what you are doing and what you have available.
5) Attend The Launch Conference.
If you are serious, invest in yourself. We have seen dozens of successful careers launched and hundreds of other careers take a quantum leap forward by applying what they learned at Launch.
My staff and I spend personal time with a limited number of people who mean business about making a career of speaking, entertaining or offering some kind of service. Over a period of two days we answer the all the questions that help you get started or take your career to a new level.
The Launch Conference gives you all the tools and information to make it happen. The following are just a few of the topics covered:
How to build and maintain a client base
How to most wisely spend promotional dollars
How to determine your fee
How to handle agreements and contracts
How to determine if you need a booking agency
How to use social media to maximize your exposure
How to build product that can add to your income and outreach
How to build demand for your speaking.
How to best handle your finances.
This conference is small enough that it allows for us to spend personal time addressing individual questions and issues. Professional consultants and coaches in the speaking/entertainment field are on-hand, as well.
You can find additional information about The Launch Conference by clicking here.
5) If you are looking to sharpen your speaking skills, you should consider attending the next SCORRE™ Conference for speakers.
Thousands of men and women have used this workshop to develop the kind of power in their presentations that gets them booked again and again. The following is just a sampling of what you will learn at SCORRE™.
• How to communicate with crystal clear, pinpoint focus
• How to find, file and use powerful illustrations
• How to maximize your preparation time
• How to develop humor that hammers home truth
 Six ways your body can help (or hurt) your speech
 How to move an audience to action
Lots more about the SCORRE™ Conference here.  Use the promo code KENBLOG and get a $200 savings on either conference.
Let us help you get started. Providing you with what it takes to make your dream come true is our dream.
If you have benefited from one of these conferences please leave a comment.[reminder]
If you have any complaints please leave a comment on Tim Hawkins website.  (-;