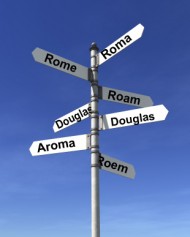 All Roads do Not Lead to Rome…or to Carol's House.

My sister's directions to her house seemed simple enough: Go east on 494 to Highway 52. Take 52 South to the big sign reading Douglas Trail Road. You can't miss it. Go east on Douglas Trail until it comes to an end—that'll be Highway 36. From there, we're just a few miles down the road on your left.
I missed two clues that indicated this would be one long trip.
Clue #1  The map provided by the rental car agency.
One side of the map showed a detailed representation of every street, alley, and bike path within a one-mile radius. The other side was a map of entire world.  The words "Douglas Trail Road" did not appear on this map.
Clue #2 was the mantra, "You can't miss it."
Sorry—I'm capable of missing six overturned semis that spilled Jell-O across the New Jersey Turnpike.  As you might expect, I missed the turn for Douglas Trail Road.
There are actually three signs on Highway 52 that bear the words "Douglas Trail." The last of these was, in fact, the correct turn, but Carol had apparently not considered this a worthwhile travel tip.
The first time I saw the word "Douglas," I took the bait. I even called to confirm that "Douglas" was the right name.
"You're almost here!" Carol giggled excitedly.
"I can't wait to see you."
I was not almost there, and she would be waiting a long time to see me.
This particular Douglas Road wound its way through vast, gaping expanses of Minnesota farmland with no sign of human life. Finally, after almost an hour of driving, the road ended. The helpful map showed that I was still somewhere in the United States.
I called Carol—long distance—and acknowledged that I was lost. She said, "Ask directions from someone on the corner." There was no "Someone on the corner" Only one rummy eyed cow.
The cow wasn't talking.
I retraced my route, finally found the right Douglas Trail Road and eventually ended up at Carol's house. A thought occurred to me:
The old saying "all roads lead to Rome" is not true. Douglas Road doesn't lead to Rome, Albuquerque, or anyplace else. It leads to one non-speaking black-and-white cow.
If you want to get somewhere, you have to answer two questions:
How are you going to get there?
There are many people spinning their wheels in life because they haven't considered either.
There are many others seeking God but are lost on their own personal Douglas Road. Jesus gave simple and perfect directions to finding God—no cows, no detours, and no bad maps.
Jesus said, "I am the way and the truth and the life. No one comes to the Father except through me." —John 14:6
Have you ever been lost?  Love to hear your story.
______________________________
This post is an adaptation from a story in Ken's book, 'Lighten Up!' available here.