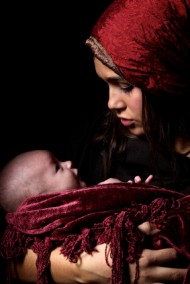 As I watch television today, I am amazed at the major news networks near total neglect of The Person that Christmas is really all about.  When did the FCC decide that the name of Jesus can't be uttered over the airwaves?
www.newsbusters.org recently ran a blog that reminded us that at least for NBC ABC and CBS there is still no room at the inn. They pointed to a study by the Media Research Center's Culture and Media Institute that shows that in their evening news coverage of "Christmas" in the two years from Oct. 1, 2008, to Sep 30, 2010  the networks almost completely neglected stories about family, religion, and the blessings that Americans enjoy.
Just seven stories out of 527 (1.3 percent) mentioned the deity in two years of network evening news coverage.  Evidently God and Jesus are forbidden words for the networks.
The study showed that in stories about Christmas, more words were spoken about Ping Pong than God and the Underwear Bomber got more coverage than Jesus.
All this is true in spite of the fact that more than 80% of Americans acknowledge Christmas as Christ's birthday and are most likely NOT offended by the true meaning of Christmas.  I can only conclude that the major networks ARE either offended or ignorant of the true meaning of Christmas. Have they forgotten that in 1870, Congress officially declared December 25 a federal holiday, to give those who celebrate Christmas a day to reflect upon God's gift to mankind in sending his son, Jesus Christ.

Have they forgotten that every time we glance  at a calendar or write the date on a check we acknowledge the birth of Christ? Will there be an effort in the future to eliminate that calendar?
I encourage you to read the entire fascinating blog here: https://www.newsbusters.org/blogs/erin-brown/2010/12/16/christmas-without-christ
I might be tempted to be distraught over this whole issue if it weren't for two facts.
Historically and prophetically the world has found little room for Jesus. Yet he went to extraordinary lengths to make room for us.
One day, "at the name of Jesus every knee will bow, in heaven and on earth and under the earth  and every tongue confess that Jesus Christ is Lord, to the glory of God the Father." (Ya think that "every tongue" bit will include the networks?)
If you read my blogs, you know that I don't concentrate much on political and media issues. But I will not succumb to the trend to take Christ out of Christmas. As for me and my family we intend to "Shout it from the Mountain top that Jesus Christ is born."
Merry Christmas!