As I post this we are just finishing our Dynamic Communicators Workshop at Glenn Eyrie in Colorado Springs, Colorado. Three days ago I asked over 90 students to keep four resolutions during the four days we were together. These are resolutions that keep the mind and heart open to learn.
1. Relax.
The five days of DCW are designed to enable and encourage and equip communicators to speak with power and clarity. That requires critique. We are terrified of critique. But we are being critiqued all the time……behind our backs. What an opportunity to have someone, in a spirit of love and encouragement, point out areas that need improvement so that we can move forward. Relax enjoy the process. They did it.
2. Commit.
Change is always difficult and without the commitment to give something a chance to work, change is impossible. I asked our students to give themselves to the process for the few days they were with us. After that they were free to toss the whole thing overboard and ask for a refund…..BUT ONLY if they would commit while they were learning. They did it.
3. Disarm. Leave your guns at the door. It is too easy to hang on to all the little tricks and gimmicks
we lean on in order to avoid the work that is associated with growth. I asked the students to resolve to leave those guns at the door to the castle as they started the workshop. I promised they would be able to pick them up when they left empowered to use them more powerfully than ever before. They did it.
4. Connect.
So often when in a new and challenging environment, it is easy to sit in the back, not engage with the people around you or those who are trying to teach. The result is a loss of synergy. A missed opportunity to learn from those who have walked the same road. A lost chance at a friendship that might last a lifetime. They did it.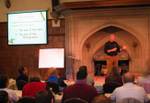 These amazing people made the resolutions and stuck to them. As a result the improvement in their communications skills is dramatic. As we prepare to leave tomorrow, I am listening to laughter and jubilant celebration all round me. I am ecstatic that these courageous people who were not satisfied with mediocrity were willing to make resolutions that opened their minds to learn. As a result the corporate leaders will be more effective than ever before, and the ministry leaders will multiply themselves a hundred times over as they return home to communicate with confidence the greatest message on the face of the earth.