I just returned from one of the most enjoyable weeks of my life, the first ever Comedy Cruise on the beautiful Carnival Dream and hosted by the incomparable Inspiration Cruises.
There are many reasons this was such a unique and unforgettable experience and only one major change that would have made it more enjoyable. The only thing I would change is this…
I would make sure you were on the boat with us!
I missed you! Here is what you missed and why I want you to join us next time.
1. Tons of Laughter
The lineup of comedians was first class!
I brought my teenage granddaughter, Kialee, with me. What a joy to see her curled up, helpless with laughter listening to these men and women share not only their the gift of  laughter but also their faith.
The night we did improvisational comedy involving the audience, everyone was so weak with laughter they could hardly make it back to their rooms.
2. Powerful Inspiration
Every morning I was privileged to share a devotional and worship time with Michael O'Brian.
Who would show up early for something like this during a cruise?  Just about everybody.
Every morning the the showroom was filled as Michael led us in worship and I brought a series of messages from God's Word.  Trust me, laughter and inspiration go hand in hand.
One of our young guests had come on the cruise having already decided that she was going to end her life.  In the laughter and inspiration she found hope to live! That alone made the entire cruise worthwhile.
3. Food
In spite of the fact that food is available around the clock I managed to stay away from the clock and eat very sensibly on this trip…… with one exception. There was a self serve ice cream machine on the ship. I just pulled up a chair and spent most of the cruise right there. I'm getting one for our home.
4. Lots of Camaraderie
Whenever you get a bunch of performers together there is usually all kinds of drama. NOT HERE. There were no egos on this ship. We all wanted to be a part of a team that would create an unforgettable experience. Each comedian brought family members. We spent hours getting to know each other as well as our friends from across the country who joined us on the cruise.
I never dreamed that getting to know these comedians and their families would be a highlight of the cruise for me. These are genuine people, refreshingly honest about their real life problems. They love God and have committed their lives to making a difference for Him.
5. Unprecedented service provided by Inspiration Cruises
This organization may be the best of its kind. There was no limit to the effort the inspiration team extended to make sure every guest comfortable and each need was met. They are amazing.
Did I mention the Ice cream machine?
6. Building relationships with the ones you love!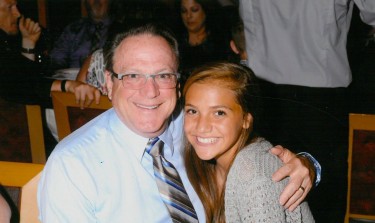 I was thrilled at how Kialee and I grew closer during this trip.
This cruise is a memory we will cherish forever. I will never forget her locking me out of the cabin so she could steal my phone and erase a picture I took of her. All the while taking a video of me trying to get back in. [youtube id="g3qTrYJ60EE"]
I tear up thinking of how beautiful and grown up she looked at the captain's dinner.  I thank God that her life is dedicated to following Him.
The way the cruise strengthened relationships in each of our families was amazing. Seeing how the children of the other comedians included my granddaughter in their activities warmed my heart. Even beyond that was how caring and friendly the adults were toward all the children.
On the last night of the cruise our guests begged us to do another one. They want us to do another comedy cruise so they can bring other family and friends. If there is another cruise, I will be there with my entire family. But I want you join us. Just remember that I have dibs on the ice cream machine!!
I will give you the dates of our next cruise as soon as they are available.
Whether it was a cruise or something more simple, what memorable experience do you remember with a family member? [reminder]