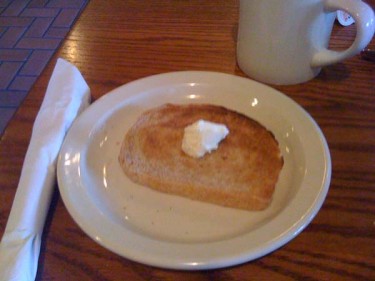 You are looking at a picture of one of my biggest pet peeves! A pad of frozen butter served on top of a piece of warm bread they call "toast?"
No restaurant names here, but there are a lot of rocking chairs nearby.
Unless you are willing to wait until spring for the butter to melt, any attempt to combine these items into an edible entity will be futile. The best you can hope for is a completely shredded piece of bread and a still frozen pad of butter with only a few pathetic remnants of bread clinging to it. Yummy.
Made me think of the scripture that says, "Let your conversation be always full of grace, seasoned with salt, so that you may know how to answer everyone." Colossians 4:6
I'm afraid my interaction with people, especially if there is conflict, often lacks the element of grace; kind of like frozen butter on toast.
Just wondered if I am the only one.