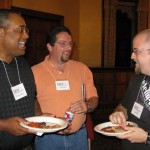 We just finished our first session of "The Dynamic Communicators Workshop" at "The Cove" in Asheville NC. I asked the students to make four resolutions that would help them maximize their learning experience.

These resolutions will work for you!

1. Resolve to Relax
So many times we go into new situations tense and defensive, fearful of change and concerned about what people will think. We assume a negative posture that stifles creativity and inhibits learning.
Anticipate a great experience
Believe that you will learn something helpful
Don't set yourself up to compete. You have nothing to prove. Learning is not competition it is
absorption. Become a happy Sponge Bob Square Pants. Soak it up!
2. Resolve to Disarm
We put it this way, "Leave your guns at the door." All those little tricks and stories and shortcuts that you usually use when the pressure is on; the candy stick, shoot from the hip easy way out solutions that keep you from trying new things, leave them at the door.
Open yourself up to learn new techniques. Risk by exploring new ideas. When you leave the conference you can pick up your guns and take them with you. You may not need them anymore. OR you may find them more affective with the new material you have learned. By leaving them at the door you will resist the temptation to depend on them and miss out on learning something new.
3. Resolve to connect
Dive in. Introduce yourself to instructors and other attendees. Ask questions, offer insight. Eat and talk and laugh with other people. TURN YOUR PHONE OFF!
In twenty years of doing workshops I can count on one hand and half of one foot the number of people who said they got nothing out of it. ALL OF THEM remained isolated and refused to get involved with the people around them. Some felt they knew it all. Usually those were sent by someone who knew they didn't. Others never disconnected from phone – computer – business, so even though they were physically at the conference, mentally they never left the office.
4. Resolve to commit
I ask our students to commit to what we are teaching just for the length of the conference. Long enough to try the principles, get past the discomfort of doing something NEW, and experience the difference it will make in their performance. Once they leave, I give them permission to dump the whole thing and shoot me with the guns they left at the door, BUT BY THEN THEY ARE HOOKED.
The new grip suggested by a golf pro seems intolerable until you commit to practice it until it becomes natural. Only then will you hit the 250 yard drive or sink the 15 foot putt.
Try these resolutions the next time you are at a conference. Better yet, come to one of our conferences and try it there. You will see —-THEY WORK!