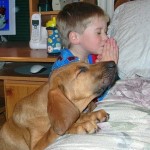 Many of you enjoyed the post with the picture of the praying boy and dog. I received a number of suggestions for captions in the comments section and by e-mail. My decision was influenced by the fact that I have been on the planet for 62 years and have been yelled at for 60 of those years about putting the seat up! I have also owned more dogs than I can remember who took advantage of the situation when I forgot. That's why I chose this caption and that's why I never let dogs lick me.
The winning caption is:

Boy: Dear God, I pray that I remember to put the toilet seat down after I am done, so momma will be happy with me.
Dog: Dear God, please, please please let the boy remember to leave the toilet open so I can get a drink.
Posted by:
Jessica Ellenberger
Jessica, Here's proof that what you say is true. Send me an address and the new DVD "Together again for the first time" is yours.