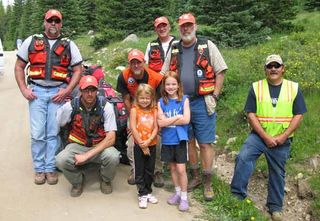 Our little camping trip started yesterday with a wonderful evening around the campfire. Just Diane and I and three little girls that we adore. Kialee age 9, Lexi age 7 and little JJ coming up on her fourth birthday. I completely underestimated the love these girls have for a roaring campfire and ran out of wood the first night. This morning we woke up to crisp, (bone chilling) 10,000 ft mountain air. The girls begged for a fire so I headed into the forest with three fairy lumberjacks in tow. I knew that within a hundred yards we would find dry dead aspen that we could drag back to the camp for a fire. We crossed the road, took maybe 10 steps into the woods, and there lay a dead limb perfect for little JJ to haul back to camp. She picked it up and headed for the camper, parked just across the road, visible from where we were standing.
That was the last we saw of her.

It only took three or four minutes to find more dead wood and make our way back to camp. Only a few minutes more to realize that she was gone. By God's grace a forest service truck came up the road and we got him to call search and rescue. Then we spent the next hour driving that road, yelling her name until our voices were almost gone. Diane and I went into the forest with what voices we had left, shouting, crying, praying. I stumbled into a swampy area went up to my knees in water and stayed right there to pray and weep.
By then she had been gone almost three hours. The feeling of helplessness is overwhelming. The mind begins to entertain the worst possible scenario. The Chaffee County Search and Rescue Team arrived already briefed and prepared. They immediately activated their search plan and before they could even begin the initial sweep they found JJ in an open space. She had walked almost a mile.
She had dropped her stick at the road and come back to look for us. We came out 50 yards up the road and never knew that she had not gone back to camp.
They gave JJ a ride back to camp on an ATV. I will never forget the sight of her smile, and her long blond hair flying behind her. I held her close for a long time. She told the rescuer she was a little scared, but was looking for her grandpa who was lost.
Thank you Lord for helping us find JJ.
Thank you Lord for the swift response of Chaffee County Search and Rescue people.
I have tasted the terror that accompanies searching for a lost little one. Please Lord, be with those who have not had the positive outcome we had today.
Thank you Lord for reminding me of the joy you must feel when one of your lost children finally come home.