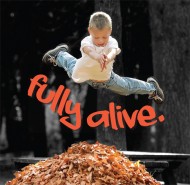 Not long ago I found myself living in a physical, spiritual, emotional and social coma.  I should have had a big Z for Zombie branded into my forehead.
A series of events starting with an eye opening look at what I had allowed to happen to my body and culminating with the horror of losing my beloved 4 year old granddaughter in the mountains of Colorado, started my recovery from living in the depressive staleness of just "making a living," to breathing the fresh air of living "Fully Alive."
Thank God, my granddaughter was found alive and well and I  found new hope and strength to live "fully alive" again!
Henry David Thoreau said, "Most men live lives of quiet desperation and go to their grave with their song still in them."
Benjamin Franklin said, " Many men die at 25 and aren't buried until 75."
On the 26th of this month we will be shooting a theater release film using laughter and powerful story to help people live "Fully Alive." Nothing, I have ever talked about has generated such an overwhelming response as this challenge.  Multi award winning producer Gary Wheeler, and Erwin Brothers motion pictures were attracted to this project because of the power of this challenge to impact people from all walks of life.
"Fully Alive" was conceived specifically to help breathe life into so many who feel like the walking dead.  At times all of us sense we may be living far short of the potential for which we were created, we feel like we are just surviving instead of thriving!
Like my old buddy the apostle Paul said,  "I have not yet arrived in this pursuit, But I long to know Christ and the POWER OF HIS RESURRECTION."
What could be greater than to know THAT POWER in our life NOW!
I am back on my feet now 40 lbs lighter and running full speed ahead. The physical renewal triggered a change in every other area of my life.  Some days my body hurts.  Some days my heart hurts.  Some days are exhilarating.  Shouts of joy are occasionally mingled with tears……  but I AM ALIVE!
I am convinced that the focus of the rest of my life will be to grab hold of those who have stumbled along the way as I did.  To encourage them to run again.  To learn together how to maximize the moment and LIVE.  This movie is the first step.
St Irenaeus said, The Glory of God is Man Fully Alive. I want to know Christ's love and  forgiveness in a way that will empower me to ….
Walk through fear to taste of courage
Reject isolation to embrace community
Discover confidence in the nature of my creation
Live with expectancy rather than expectation
Love every person I meet with the passion of Christ
"I want to wake up kicking and screaming
I want a heart that I know is beating,
It's beating,
I'm bleeding."  Switchfoot
I WANT TO LIVE!
How about you!! Where are you in the journey of living fully alive? We will be establishing a web page soon where you can share your story, your dreams, your challenges and your triumphs.  Until then, your comments will be cherished as we all move toward living life fully alive.