Alan Maxell is a friend with a huge heart and a generous spirit. When he told me of this true experience he had with his grandson, I knew right away it was a story I had to share with someone.  Who better than you?  And what time would be better than now?

Alan was filled with anticipation when his firstborn grandson flew into Eugene, Oregon, the summer he was ten and announced he wanted to go fishing with Grandpa. In the midst of his excitement, a gremlin of doubt raised its ugly head. All he could think of were the times he had taken his daughter, Teresa, her brother, Jim and his wife Carrol, fishing and was skunked. Cold wet days without a bite.
This particular weekend, as Alan greeted the smiling face of his eager grandson Matthew, it was that image of failure that dominated his mind. What if there were no fish? He tried to soften the possible disappointment that would come if they didn't catch any fish. "Even if we don't catch fish, it will be great for us to be together," he offered. "We'll have fun, Alan added.
But Matthew would have none of it.  "Grandpa, don't worry." Matthew announced, "God will get us fish." Alan thought about the boy's fragile faith and wondered if he was going to be responsible for breaking it. He tried to explain that God is faithful even when things don't go our way. Matthew interrupted, "Grandpa, don't worry, God will get us some fish."
And fishing they went. Immediately Alan began to pray, "Please, God, forget about me, but for the sake of the child, let us catch some fish. He lost track of how many times he prayed that prayer.
He prayed setting up a campsite next to the beautiful river.
He prayed that afternoon as they fished around the bridge downstream from the camp.
He prayed as Matthew and he cooked dinner over the fire and after dinner as they worked their way upstream.
Alan was not Catholic, but there was no fish on Friday.
They talked late into the night around the campfire and as they got into their sleeping bags, Matthew said, "Don't worry Grandpa, God will get us fish."
Saturday was a new day. It began with enthusiasm and hope, yet throughout the entire day not a single fish tugged on their line.  The bobber never bobbed it just floated.
No fish Saturday.
That evening Alan was really discouraged. How could God look into the face of this child and deny him one fish? Didn't God know how much joy just catching a fish would bring to this boy?  But Matthew was filled with confidence. They had one day to go. It was a long day without a single bite. Alan began to wonder if the fish had ordered out Chinese.
No fish on Sunday.
Alan was quiet Monday morning as they packed to leave. Matthew was still expectant but Alan couldn't bare to hear him say how God was going to provide again. As they pulled out of camp, tires crunching on the gravel road, Alan spoke very practically about their odds of getting fish. They were on their way home. There was this one little lake along the way but…
A short way down the mountain on a long straightaway a vehicle going the other way passed by them. A truck of some kind. Alan had a deep impulse to turn around and follow the truck. Alan's not an impulsive person. He didn't build a successful business following whims. But he pulled over to the shoulder and turned around.  Far ahead he saw the truck turn off the main highway. He followed. There, parked by the river, was the truck. Written in big letters on the back and side of the truck were just two words:
FISH TRUCK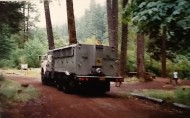 They watched as the men dumped thousands of fish into a beautiful river where not another fisherman was in sight. As the men finished, Alan asked if it was alright to fish there. The men laughed and said, "If you have your licenses, be our guest." As soon as the truck drove off, Alan moved the pickup close to the river, retrieved the stowed fishing gear and they started fishing. Matthew was laughing continuously.
He laughed as watched Alan bait his hook.
He laughed as he cast out his line.
He laughed as he pulled in fish after fish.
The more fish he caught, the harder Matthew laughed.
Alan was as excited as his grandson. He stood in awe as 0ccasionally the boy would catch his breath and announce, "Grandpa, I told you not to worry, God would give us our fish."
Soon they had their limit. They placed the fish side by side on a log and took pictures. Then they both looked at each other and at the same time said, "Thank you, God, for these fish."
The Three Life Lessons?
A child's faith is unshakable.
A day without a bite is not a reason to give up.
A prayer that seems to go unanswered is not unheard.
[reminder]Has a child ever taught you a life lesson?[/reminder]
____________________
I spoke with Alan yesterday to alert him that I was going to post this story.   During our conversation I discovered that in 2011 a car crossed the median and hit the car Matthew was riding in head on, taking his life.  Alan and I talked about how this tragedy that happened 20 years later magnified the value of those precious memories of the two of them fishing together.  The same faith in God Matthew believed in so strongly during that fishing trip has helped the family navigate some tough waters.  We believe they will be together again! The same God that honored a little boys faith has promised it. Matthew believed it all along.