I love the game of golf, but lately my golf ball had become a water-seeking missile, so I engaged the services of a golf pro to help me keep the ball in the fairway.
The first ball I hit arced into a lake to the right of the fairway.
"You're too stiff," the pro said. "Wiggle before you swing. It will relax you."
So I wiggled and hit a beautiful soaring shot further than I had ever hit a ball before…
Over 200 yards INTO THE LAKE.
I reasoned, surely if I aim at the nice homes on the side of the fairway opposite the lake, the ball will land in the fairway. I teed up, did the little wiggle, and hit the ball as hard as I could. It hit the inside of my club, then the inside of my heel, and scooted across the grass into the lake.
Someone defined insanity as continuing to do the same thing over and over expecting a different result. I live out that definition every time I step on the golf course. The cure for this kind of golf insanity is to take up tennis.
The Bible has a cure for this kind of insanity; it's called repentance. It means to change direction. God's people sometimes need a dose of sanity.
If my people, who are called by my name, will humble themselves and pray and seek my face and turn from their wicked ways, then 
I will hear from heaven, and I will forgive their sin and will heal their land (2 Chronicles 7:14).
Is it time for a little sanity in your life?[reminder]  BTW, I don't wiggle anymore??
Go Deeper: 2 Chronicles 7:11-16
If you enjoyed this post I know you will enjoy the collection of devotionals offered below.
---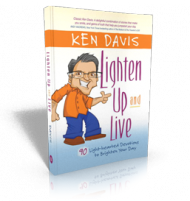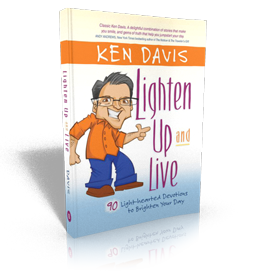 This post is adapted from Ken's Devotional book Lighten up and Live! 90 Light-hearted Devotions to Brighten Your Day. A perfect way to start your morning. Get it here.