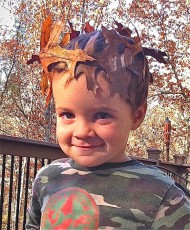 What does it take to bring a smile to the face of a friend?  What does it take to change a bad day to a good one? What does it take to change a life?  Sometimes a moment makes the difference.  

A high school teacher looked at me and said, "God has given you a gift."  It took less than three seconds to say those words. She had every right to say, "You're expelled from school. Instead she used words in those three seconds that changed my life.
I taped eight autumn leaves together into a crown, and in a two minute ceremony proclaimed my grandson, "King of the Forest."  I captured his smile with a picture.  I think I might have captured his heart that day as well.
My friend Bill Letourneau stood before his kneeling son with a sword and commissioned him to honor God with his life.  In that moment a boy's life was changed.
After you watch this video, think of moments that have changed your life.  Then think of a moment you could spend to bring joy to another life.  Share your thoughts with us.
[youtube id="pMWU8dEKwXw#t"] Comment here: