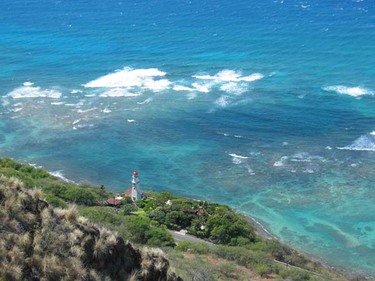 View from the top of Diamond Head
There are times and places where God's hand is so evident that it takes your breath away. A 10 day cruise of the Hawaiian Islands has left me gasping for air. So did the climb to the top of Diamond Head. They said the climb would take 45 minutes. We did it in just under 19 minutes and were rewarded with free oxygen from an EMT guy and this spectacular view. It was hard to tell what was sky and what was sea. I didn't hear any people screaming, "There is no God!" From up there. In fact, I didn't even see anyone dusting for fingerprints to see if he had been there. He was there. It was quiet…… except for the hiss of my oxygen.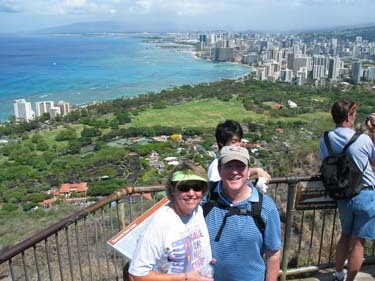 Diane and I overlooking Waikiki beach
However, the best of Hawaii is away from the big city where you can see the power of the volcanoes and the beauty that exists where once there was only molten rock. Get off what ever ship you are on, out of what ever tour bus you are riding and drive and walk. A short drive from Hilo we found easy access to Akaka falls, huge lava tubes, and old lake beds of lava that still belched steamy hints of the turmoil below.
Pictures do not do this place justice, but perhaps they will work better than words. Here's just a few in a series of pictures I took. Lick on the picture to see a larger image. Better yet CLICK on the picture to see a larger image.
Hawaiian Cardinal

Golf Ken's way

Lava flowers

Shadow of a Giant

Kite surfing

Orchid

Romantic Beach at sunset
We had a great time with our family, the Scheer family, Danny and Betsy de Armas and Derrick and Jennifer Huckleberry. Our cruise was arranged by Templeton Tours They are experts in providing quality Christian tours of all kinds. This is one I will not forget.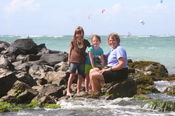 Diane, Kialee and Lexi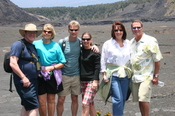 Davis' de Armas' Hucklberrys
The kicker is the trip home. If God flew home after creation, I really understand why he needed rest. Especially if he had a layover in Minneapolis.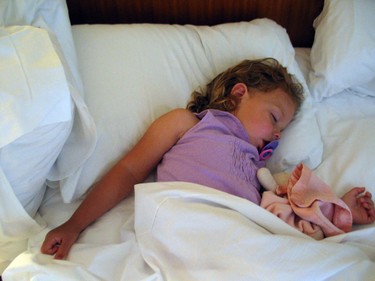 Jadyn Scheer AKA "Jet Lag"